March Strain of the Month
In our quest to expand our garden, Green Truck did a deep dive into seed selection and pheno hunting last year. One of the resulting strains is a familiar, enticing, deep purple with flecks of earthy olive and orange – reminding us somewhat of our favorite fairy tale sea witch.
Ursula, quickly becoming one of our house strains of choice, is a sweet, kushy, grapey treat. This Indica-dominant Hybrid cultivar was created by crossing 09′ Animal Cookies x Grape Cream Cake.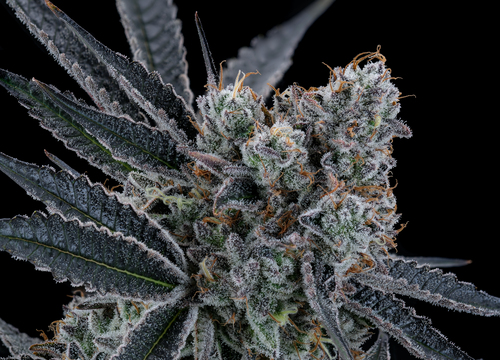 Our staff loves Ursula for its potent, long-lasting high, ideal for a couch-locked night of kicking back and relaxing. Its sweet, but gassy terps are highlighted with sugary, fruity notes, reminiscent of a delicious piece of grape candy.
Regarding its terpenes, Ursula is a myrcene-heavy strain. For context, myrcene is also commonly found in plants such as thyme, lemongrass, mango, and even in the hops used to brew many popular beers.
There is some evidence that myrcene found in plants was historically used as a sedative and potential muscle relaxant, which may feed into Ursula's relaxing, but potent, properties.*
*Looking for strains to help you focus on cardiovascular health? Our February Abby's Corner features relaxing, heart-healthy options and tips.
Ursula is currently available at our patient pickup location, in flower, prerolls, and various forms of house-made concentrate. Ask your budtender on your next visit for specific recommendations and suggestions!
Hoping for a closer look at this mystical cultivar? Check out what the test results have to say:
Total Cannabinoids: 27%
Total CBD: 0.412 mg/g
Total THC: 220 mg/g
Total CBD: 0.0412%
Total THC: 22.0%
Top Terpenes: Myrcene, trans-Nerolidol, Caryophyllene
*This statement has not been evaluated by the Food and Drug Administration. This product is not intended to diagnose, treat, cure, or prevent any disease.